I knew that vowing to blog every day would be challenging on days like today. Today when it was a gorgeous Florida day, when both kids were home all day, when we had a play date and family came over to help us unpack and get settled in our new house, when friends dropped by when they saw us on the front porch, when we were jumping on the kids' new trampoline on and off all day. I have a simple list of what I want to blog about this month but nothing is assigned per day, so really whatever is on my mind is what will show up here. . . .
And today it's flour bellies and holiday vows.
Finally after the kids were asleep, the table cleared, and the laundry started, I sat down at my computer to get ready for my second newborn session of 2015 tomorrow. I uploaded images from my card and realized I hadn't yet uploaded or looked at images that I'd taken over the Christmas holiday. In fact, it hit me that it was already January 3rd and the holidays were over. And I missed them. Like, the days went too fast and I overbooked and I missed the holidays this year . . . I remember as a kid how painstakingly hard it was to wait for the holidays to come, especially Christmas. And when they were over, it was so sad to think about the fact that an entire new year needed to go by before we got to experience it again. I've been talking to my son about this, "when will Christmas be here again?" He is 5.5 and learning about time, weeks, months, years, calendars, etc. Time to him moves at a glacial pace and a week seems like months, months seem like years, years like decades, decades blow his mind, totally unfathomable. From now until his birthday at the end of May is eons in itself.
I, on the other hand, experience time as if a month is a week, a week is a day, and well, a day is like a blink of an eye. I heard once that life is like a toilet paper roll, the closer you get to the end, the faster it goes. I do understand the concept but how the hell does it move so fast when I'm only 36?! Hopefully, I am still far from my end, I can't imagine how quickly time will go over the next few decades.
So then I stop and wonder, this can't be totally normal at this age. How did I miss the month of December? Constantly rushing here and there, staying up late to accomplish the long to-do list, scheduling "fun family" time to the hour in between working time, barely being able to remember what I ordered for the kids on Amazon (because who has time to leisurely browse through the mall or drive from store to store anymore?!). I'm self employed. And one of the benefits of being self employed is to control your own schedule. And somehow, I did not do that this past busy season. Well, it's not so much that I wasn't able to do holiday things, it's that I didn't stop and truly feel the holidays. The magic and anticipation, the fun family gatherings, the yummy holiday food, the fun of wrapping gifts and watching the recipient excitedly unwrap, the parades, performances, tree lightings, falling snow . . . how did I let it all slip by without truly being 100% present? My body was there, but it all went by so fast that I blinked and it was over.
One of my favorite benefits of being a photographer, is being able to capture everyday moments of my children's lives. I love capturing their lives and my life just as it is. Real. Unstaged. I'm so glad I captured images from the holidays so that even though they flew by at lightning speed, I can relive the moments. Here's one of those moments. I want to forever remember the way she enthusiastically floured the table and the rolling pin while we made cookies for Santa. I want to remember how she doesn't hesitate and dives head first into any new activity that comes her way. I want to remember how she was so proud of herself for pushing the cookie cutter into the dough and making a snowflake-shaped cookie. How her bare belly squished against the table because she refused to put a shirt on. And how her perfect little hand dusted her belly with flour.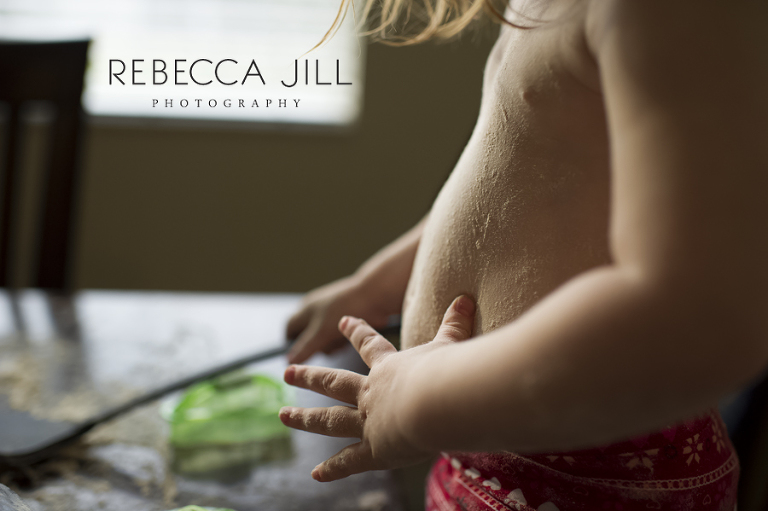 Next holiday season, and every day before then for that matter, I vow to live with greater presence, to be more aware, to soak in the details, to stop and smell the baby's hair, and not lose myself in my crowded schedule.